Permanent Hair Removal
What is it?
Unwanted hair, as we all know, can be anything from an annoying nuisance to an embarrassment. We use the latest laser technology offering fast, effective hair removal.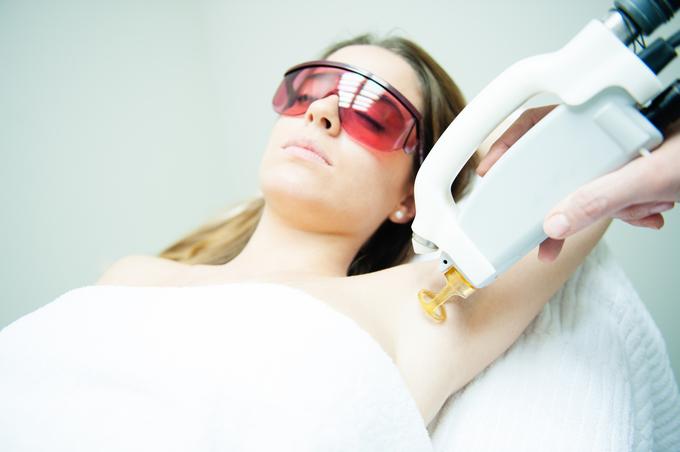 How does it work?
At Rachel's Beauty World we offer both lasers and intense pulse light (IPL), these both work by directly targeting the dermis, specifically, the "bulge" of the hair follicle. The "bulge" of the hair follicle supplies the entire hair follicle with new cells – destroying this eliminates new hair growth.
Our laser and IPL treatments enable us to programme the treatment dependent on your specific hair and skin type. Specific treatment recommendations will be discussed with your certified technician during your initial consultation..
Approximately 40% of growing hair is destroyed with each treatment. Our lasers provide rapid coverage enabling you to benefit in shorter treatment times and faster results. Over time, continued treatments will result in a long term, stable reduction in hair growth.
A course of six to nine treatments is recommended to achieve soft, smooth, hair-free skin. Treatments must be four to six weeks apart, due to the growth cycle of the hair follicle. As part of the hair follicle growth cycle, follicles become dormant. When they are dormant, they are not destroyed by the laser.
What hair colours can be removed?
Grey hair cannot be treated by lasers, as melanocytes that produce melanin decrease as we get older. Melanin is the pigment that colours the hair and, as the production of it reduces, so does the colour of our hair, rendering it grey due to a lack of colour pigmentation. Fair hair can be treated, but may require more treatments and may not be as effective.
What will I feel during the treatment?
During the treatment, you will feel a slight tingling sensation, like an elastic band being pinged on the skin. This should never be unbearable. Topical anaesthetic cream may be applied prior to the treatment, to numb the area.
How long will it take to see results?
Treated hair should be shed within two weeks. The length of time will depend on your hair type. However, full results should be achieved between six and nine months.